Article
Coming of Age – Yoni's Story by Pressley Ridge
Yoni is a third-year student at a local film academy, where he learns the finer points of cinematography, sound engineering, lighting, and film editing.
Empowering families, youth and individuals with hope, healing & happiness.
Annette is proud.
Her son, Yoni, was just certified on the Logic Pro X and Adobe Suite.
It's yet another small victory for Yoni, a 19-year-old with his eyes set on a career in the entertainment and film industry. And like any 19-year-old, Yoni already has his sights on the next big prize.
Yoni is a third-year student at a local film academy, where he learns the finer points of cinematography, sound engineering, lighting, and film editing. He works alongside mentors to prepare himself for life after academia. He even continues his education with a local film collective to refine his digital storytelling skills.
Those may seem like relatively ordinary things for an ambitious 19-year-old, but Yoni is not ordinary.
Yoni is among a tidal wave of people with autism who are attempting to make the transition from school to adulthood. And thanks to lots of hard work, Yoni is rising to the challenges of his disorder.
Meet Yoni
'So what do you think Yoni is going to do when he grows up?'
The question has lingered in Annette's mind for years.
When Yoni was diagnosed with autism, suddenly his behaviors – from the inattentiveness to the outbursts – started to make sense.
"Well…" Annette paused to search for the right words.
In the early years of his diagnosis, Anette struggled to picture a future that was anything but bleak. "I wasn't aware of what opportunities were out there, if any at all," she recalled.
And even while Yoni is high-functioning, his life has been full of enormous ups and downs. There were moments when neither Yoni or Anette thought he would succeed.
"I thought we were on our own, but it is so nice to know that we're not."
Annette had tried other agencies but was never able to find the right fit. She never really understood the purpose they served or value they provided, if any at all.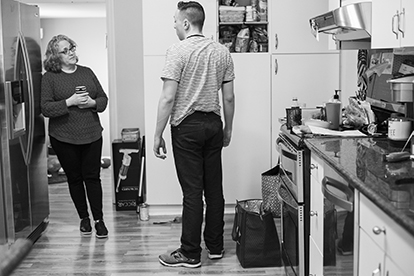 So after conversations with other parents and hearing other stories, she made the call to Pressley Ridge.
"From the very first phone call I made," Annette explained, "the intake information was taken, and we were put in touch with the individuals who make the connections."
And much to Annette's surprise, the family even had a chance to interview their service coordinator before deciding who to work with. And through this unique process, the family found their partner in Jason.
"We've been incredibly fortunate to work with such individuals with the level of professionalism and knowledge that I didn't know existed in the service coordinator position. "They [Pressley Ridge] really excel at letting the families know what's there, listening carefully, and helping the family plan for the next step."
– Annette
Taking the time to help Yoni become his best self.
"Jason is an amazing individual. He gets our family dynamics. He gets Yoni, and he's always looking out for what's best for him," Annette said.
Jason knows what Yoni likes. He knows what he dislikes. The two share walks and deep moments, easing the tension by discussing their shared love for the band Primus or Yoni's latest script idea.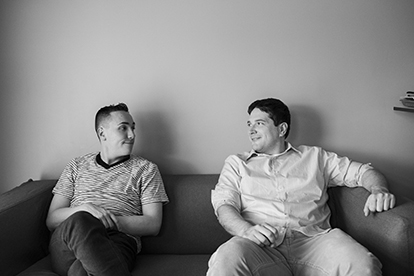 While it may seem normal to an outside observer, the true purposes of their time together was always the same: conversation, debate, negotiation, compromise and the building of relationships.
In time, the problems with inattentiveness subsided. The emotional outbursts seemed like a distant memory. Jason showed Yoni how to handle his feelings, and how to not let his emotions get the best of him. He pulls the best out of Yoni.
"I grew up. I learned." Yoni proudly declares when asked.
Lights, camera, independence!
'So what do you think Yoni is going to do when he grows up?'
"Well…" Annette hesitated, carefully searching for the right words. "I would like him to make great strides, academically and personally. Go to college. Fulfill his dreams, whatever that is. And just live the best life that he can live."
Seventeen years, hundreds of hours of hard work, some hospital stays, and countless ups and downs later, Yoni is making his mother's wishes come true.
As his academic training comes to its end, he has his sights set on the next big hurdle – living independently. And Annette once again has high hopes.
"He wants to succeed. He wants to please. He wants to be the best Yoni he can be, and I think he feels that he can be in the environment we've created for him."
-Annette

Photography by Rebecca Kiger